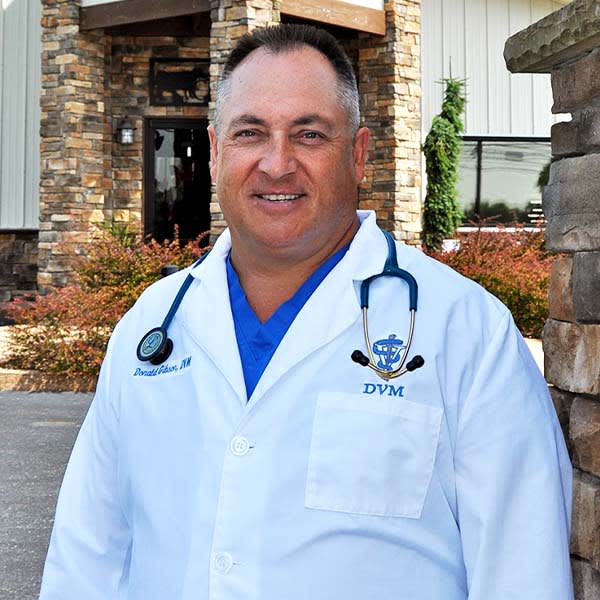 Dr. Don Gibson
Dr. Gibson graduated from Auburn University College of Veterinary Medicine in 1991 and began his veterinary career in Maysville, Kentucky. Originally from Hindman, Kentucky he moved to Grayson after purchasing Gross Vet Clinic from the late Dr. Gross' family in June 1995. He opened All Creatures Veterinary Care on July 5, 1995. 
In 2011, in an effort to expand services to the community, Dr. Gibson and his wife, Cindy purchased the 406 E. Main Street location and built a new, expansive, state-of-the-art clinic that opened in July of 2012.
"Doc" enjoys all aspects of veterinary medicine, as well as community service. He is a former Carter County Fair President and current board member, a former President of the Grayson Area Chamber of Commerce and a Carter County Health board member.
When he's not taking care of the "critters" he enjoys flying, boating, skiing, traveling and many other activities with family and friends. One of his favorites is spending time with his grandchildren, Sam and Charlotte. He has one son, Jared who lives in Lexington with his wife, Emily.
Doc has adopted and rescued many animals over the years with the current "crew" consisting of a chocolate Lab named Derby, three Golden Retriever brothers, Maverick, Goose and Iceman, two cats, Earl and One-Eyed Willie, a pony named Toby and a Clydesdale named Scarlet.
New Patients Welcome
All Creatures Veterinary Care is accepting new patients! Our experienced vets are passionate about the health of Grayson companion animals. Get in touch today to book your pet's first appointment.